May-June 2019 Newsletter
YOGA NARADA®
BodySpan Studio will be offering two 90 minute sessions of YOGA NARADA®. Formerly called Yoga for Dancers, this is the foundational work of the GYROKINESIS®/GYROTONIC® methodology and offers a deep exploration into the movement. Specialized Master Trainer Clyde Rae Jolie-Ashe will be teaching these classes at bodySpan on Saturday May 25 at 11:00-12:30 and Saturday June 29 at 12:00-1:30.
Cost is $30 per class and if you would like to join us please reserve your spot as space is limited. Contact bodySpan Studio for more information and to reserve your place.
GYROKINESIS® Group Classes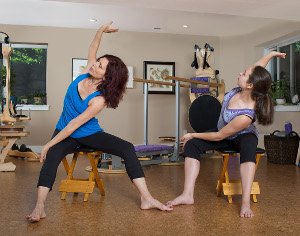 GYROKINESIS® group classes are going strong and will continue on Fridays at 11:00-12:15. Keep your spine strong and keep your spine moving with this unparalleled system of three-dimensional movement. This is a full body workout, emphasizing rhythm through breath in coordination with all the movements. Increase your range of motion, enhance your stability, work on standing balances, build strength and get more flexibility equally. And most of all, rediscover the joy of moving!
Cost is $17 per class and space is limited, so please let us know ahead if you would like to join us.
GYROTONER®
Deborah has recently completed the training on the GYROTONER®, which is a specialized piece of GYROTONIC® equipment. She is now certified to teach on this machine and has been incorporating exercises on the GYROTONER® into her practice. The GYROTONER® is versatile and allows one to move in many different planes.
For a challenging movement experience, come and try a session and see how many amazing ways there are to move the spine. There's nothing quite like it!
NEW: Group Classes for 3
With the addition of a third GYROTONIC® Pulley Tower, bodySpan Studio is now able to offer small group classes (trios). If you've never tried a session of GYROTONIC® Expansion System, find two friends and come experience a great workout together moving in rhythm.
We offer a relaxed and beautiful setting here at BodySpan. Contact bodySpan Studio for details and pricing and to book your first trio!